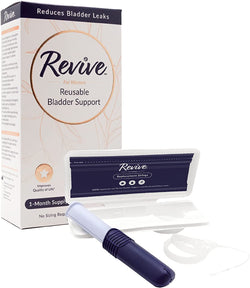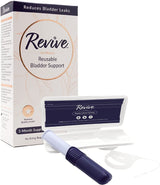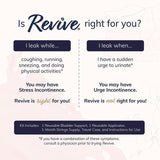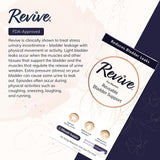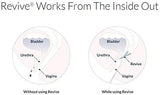 Revive Reusable Bladder Support
Userevive™
Revive is a reusable bladder support that is clinically shown to prevent light bladder leaks (bladder leakage with physical movement or activity including sneezing, laughing, coughing, etc.); reducing leaks for up to 12 hours. Each box contains a 31-day supply with an easy-to-use applicator, which means you can just place it and go about your day, discreetly managing your leaks. In clinical trials, over 90% of women felt the product was a good fit upon first use, and over 70% experienced a reduction in light bladder leaks.
A reusable bladder support device is worn internally to reduce light bladder leaks. 
Light bladder leaks are caused, by physical activity or movement (such as coughing, sneezing, laughing, jumping, etc.)
1 month-supply (up to 31 uses) with a reusable applicator.
Provides protection for up to 12 hours per day.
Clinically tested and FDA cleared for over-the-counter use.
No sizing is required. One size fits most. 
What's in your Revive® kit:
One (1) Reusable Bladder Support Device
One (1) Reusable Applicator
One (1) Month Strings Supply
Travel Case
Instructions for Use